The NEPSE index closed at 2,231.57 today after gaining 14.37 points from last trading day's closing. This is a gain of 0.65%. The index had gained 16.32 points yesterday.
The index opened at 2,222.49 points and went intraday low at 2,222.01. It made intraday high at 2,243.57 and ultimately closed at 2,231.57.
226 scrips traded hands via 22,031 transactions. Furthermore, a total of 2,694,429 shares exchanged hands amounting to Rs. 1.044 Arba in the turnover amount. This is lower than last trading day's turnover of Rs. 1.088 Arba.
Upper Tamakoshi Hydropower Limited (UPPER) traded the most and had the highest turnover of Rs. 8.34 crores closing at a market price of Rs. 529.9.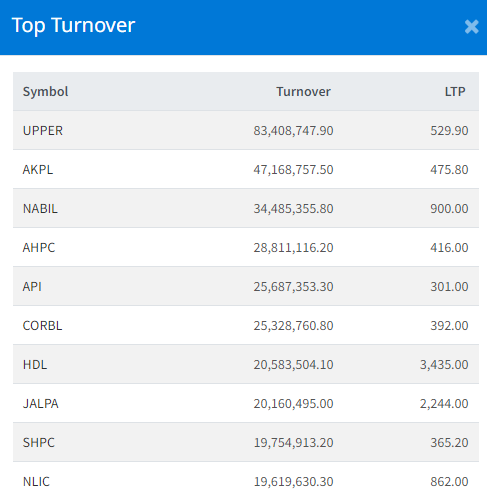 Balephi Hydropower Limited (BHL)…
---
Read full article at ShareSansar.com
---